The Best Dropbox Alternatives in 2021
Dropbox – which launched in 2008 – has been the cloud storage  leader for many, many years.
But with the ever increasing pricing, multiple restrictions, and data breaches, it's time we ask ourselves: is there a better alternative to Dropbox?
Good news! You'll be glad to know that there ARE quite a few alternatives!
Read on below to see what they are.
TL:DR: We recommend pCloud and Icedrive for their level of security, free 10GB of storage, and affordable plans.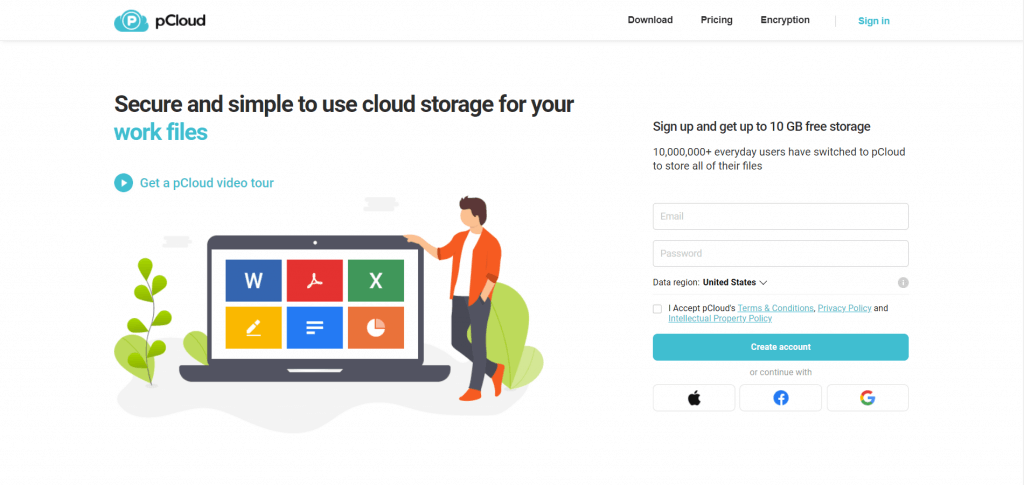 Over 10 million users everyday trust pCloud to store all their files securely.
Based in Switzerland to give their users the highest level of privacy, pCloud is one of the most secure and easy-to-use cloud storage services.
pCloud is trusted by people working in companies such as Nike, Twitter, Coca Cola, Uber, Pepsi, Snapchat, BMW, Pepsi and more!
Unlike Dropbox's free limit of 2GB, pCloud provides users with 10GB of storage FREE.
You can use pCloud to store important documents, photos, videos, music, and other files that most other cloud storage providers typically don't support.
pCloud comes with all the features that you are familiar with: download link sharing, folder sharing, special access permissions, password protection, expiration dates and more.
Also, pCloud has no restrictions on the uploading size, this is something which lots of cloud storage providers limit. You can upload any type of file regardless of its size. There is no download limit either, and you can enjoy very high uploading/downloading speeds.
Security is an area which pCloud shines in. Their top-level cloud encryption with its Crypto service is designed to secure even the most sensitive information on any device. All data locked by pCloud Crypto can only be unlocked by a unique key which you, the account owner has. No one else, not event pCloud themselves will have access to the data.
In fact, pCloud are so confident in their client-side encryption software that they challenged hackers from all parts of the world, including top universities  such as Berkeley, Boston, MIT, and 613 other organizations to hack encryption system.
None of them succeeded!
Features:
File management tools available to search and filter the files and folders
TLS/SSL encryption to securely transfer the data to pCloud servers
Automatic sync of all the files and folders across desktop and mobile devices for a seamless transition
Zero-knowledge privacy
Client-side encryption to keep the data secure in case your device gets stolen
Previous versions of data available with pCloud Rewind which keeps everything for 30 days in case you remove anything accidentally
App for Windows, macOS, Linux, iOS, and Android
For their paid plans, there are two storage sizes available — 500GB and 2TB. Users can subscribe annually or pay a one-time fee for lifetime subscription.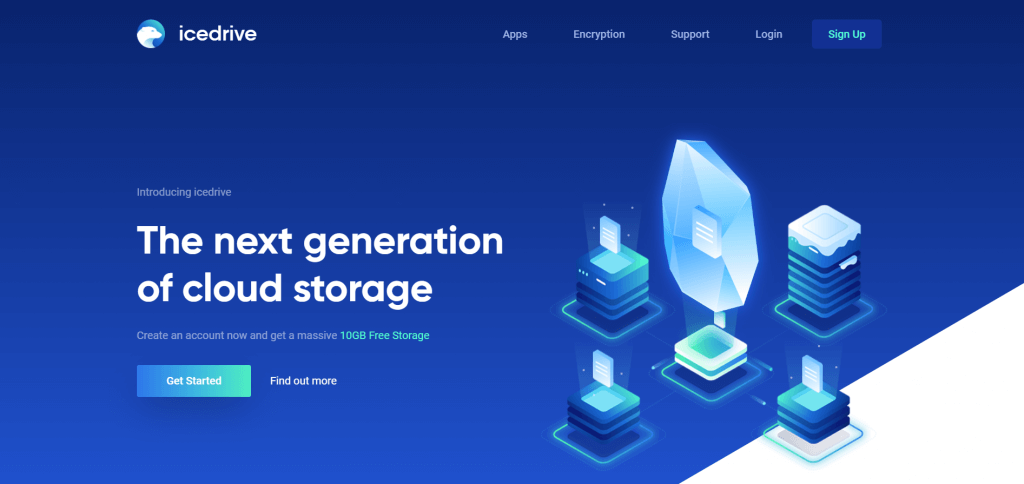 Icedrive is new to the cloud storage scene, but they are already showing great promise with their tight security and ease of use.
A promising newcomer to the cloud storage scene, focusing on privacy and security. With its sleek interface and excellent security features, Icedrive seems destined for a great future.
Icedrive's main selling point is its airtight zero-knowledge encryption, and it has made some unique choices that set it apart from other cloud services.
You can also get up to 10 GB of storage space for free, making Icedrive one of the most robust free plans on this list.
Icedrive offers several different storage apps for various devices, including web-based, mobile, and desktop. Drag-and-drop your files into the web app to access them from anywhere.
Their mobile app is available for both iOS and Android devices with a clean and intuitive interface. You'll be able to manage all your data from your smart device, including a built-in document viewer and media player for a seamless experience.
Additional features include:
Client-side Twofish encryption
Password protection
Share timeout capabilities
Collaboration tools
Icedrive offers monthly, annual, and lifetime plans.
Monthly plans start at $4.99 per month for up to 1 TB of storage. You can also subscribe annually for $49.99 per year or get a lifetime access for $149.
Google Drive is one of the most popular cloud storage service in the world. Offered as a free service by Google, it comes with 15 GB of free storage, which you can then extend to 30 TB with the paid plans.
The Google Drive dashboard is very intuitive, and to share your files with others; you can generate shareable links with permission to view, edit, or comment in the documents.
The free Google Drive storage space is divided between the cloud storage, Gmail, and Google photos.
Features:
Supports all file formats from images, videos, music, and documents etc.
Access to apps — Google Docs, Google Sheets, and Google Slides
Automatically sync data — photos, contacts, messages, and more in Android devices
Free high-resolution backup for all the images and videos
Apps for Windows, macOS, iOS, and Android
Little else needs to be said about a Google product, it's all in the name. Give their free tier of 15GB a try.
Maybe you're running a small business or start-up and want to save cost on cloud storage, or maybe you're an individual who just want's to keep his/her photos and memories somewhere accessible yet secure. In any case, Dropbox is getting outdated.
Check out these options which we feel are better, equally safe, and much more affordable.
BRAD recieves commission from most products/services mentioned in this article. We will however, only recommend products/services that we trust and would use ourselves.